Apex University, Jaipur in association with "The Designer's" Class brings you a Fashion & Interior Design Course by the renowned personalities, Rhea Kapoor & Gauri Khan, who teaches you to create innovative Fashion & Interior Design Spaces.
Apex School of Fashion & Design, Apex University, Jaipur signed an MoU with India's first digital education platform "The Designer Class" which offers online design courses led by prominent brand names and world-class designers of fashion & design industries.
The students of the School of Design at Apex University will be benefitted by learning directly from the industry experts like Gauri khan, Abu Jani, Masaba Gupta, Kunal Rawal, Sandeep Khosla, Rhea and many more. These celebrity experts' curated courses, being made available by The Designer's Class, provide premium quality education in different verticals of design like Fashion Designing, Interior Designing, etc.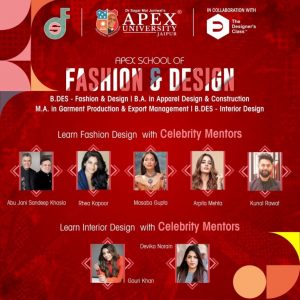 The best part of pursuing this course is that the Students will get certificates duly signed by the Celebrity Experts on completion of each course, and thus by the time the student gets the Design Degree, they will have bagged several valuable certificates from renowned industry experts. In addition to this, the students will have the opportunity for internship training with the concerned celebrity expert on completion of each course. Students will also get a chance to learn contemporary skills through exclusive live online sessions/interactions by celebrities during the tenure of the program. As design-based professions are rapidly growing spaces and design knowledge is required across a multitude of industries, students who will undergo these professionally curated courses by the best-in-class celebrity experts are going to be in high demand and will have an exciting future.
How will our students learn?
Celebrity Designer's Lectures
Learn from the finest professionals in the design industry,
Audio Visual Presentations
Build a firm conceptual understanding of design and management practices.
Video Demonstrations
Get to learn the technicalities and practical skills required to bring your ideas to life.
Workbook
Develop a strong foundation with guided task-based exercises and resource references.
Multiple Choice Questions
A.I.- Based assessments measure the learner's strengths and weaknesses.
What will students earn?
Certificates signed by the designers
Internship with the designers
Brand placements opportunities
Advantages
Gain comprehensive practical knowledge in the design industry
Add value to your skill set and resume.
Develop an understanding of fashion concepts
Familiarise yourself with the semiotics of fashion styling, fashion terminologies, and trends.
Acquire skills and principles of fashion
Insights on the world process, documentation, and ethics of fashion
Become a fashion entrepreneur
Make a mark in the fashion
A better understanding of all aspects of fashion.